Foundation Fortnight - Neev 2015 (WeSchool, Bengaluru)
Foundation Fortnight, Neev 2015 at Welingkar Bengaluru
Theme - 'Responsible leaders...passionately curious' remains at the core of all deliberations.
DAY 13 (10 July) - Neev 2015 (Welingkar, Bengaluru)
Responsible leaders, Passionately curious.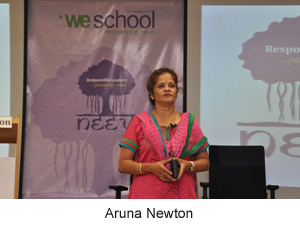 On the last day of Neev 2015 Aruna Newton was the chief speaker of the day. She spoke on how to survive in the corporate world and become responsible leaders. She initiated her talk by saying all individuals are different and one must know oneself deeply. Once a critical assessment of oneself is done then one has to improve upon his competencies and develop analytical skills. She cautioned that one must not neglect the power of communication. Quoting Gartner she said, "The world does not belong to the generalist or specialist. It belongs to the versatilist." Therefore she urged the students to become versatile people and this trait will enable them to adapt to any condition. She reiterated that the world belongs to versatilism and one must develop skills and abilities to face any challenge.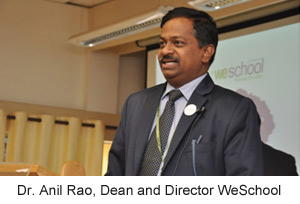 Post the first session, Dr. Anil Rao, Dean and Director WeSchool, took over the stage in 'Hello We'. He started by asking the students to recap the learning from the leaders who had addressed the students. Then quoting from a 2014 PWC survey findings he spoke about the concerns of Global CEO's which would give the students inkling about what engaged the minds of world leaders. He elaborated that over regulation, Availability of key skills, Govt. response to key skills were the main concerns whereas competition, Technology, Partnerships and Diversity were some of the other concerns. Continuing in the same vein he elaborated on the expectations of the global CEO's from the future workforce and pinpointed the following:
Open up to customer influence
Transformation through digital skills
Design thinking and innovation.
Data Analytic skills
Strong Technical skills
Broad range of other skills
Talent search in different geographies
Strategic and flexible thinking

He concluded by talking about the opportunities provided by Welingkar Bangalore and exhorted the students to take maximum benefit from these opportunities.

On Your Marks!
The last session before lunch was 'On Your Marks!' where an objective type test covering all the subjects taught during the fortnight was conducted to test the grasping ability and attentiveness of the students.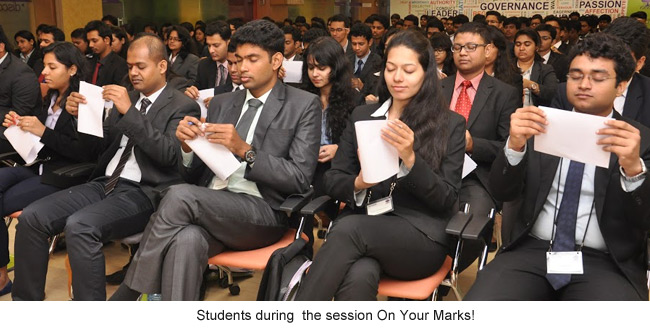 Post lunch, between 2.00 and 3.00pm, the students were given time to prepare for the cultural event which they would put up at the end of the fortnight. From 3.00 PM the students displayed their talent in extra-curricular activities such as dance, singing, drama, mimicry etc.
The day and the Foundation Fortnight - Neev 2015 concluded with a Closure speech by Dr. Madhavi Lokhande.